Hey all.
New, I mean brand new to blogging. No idea if this post will be my one and only or what. Better introduce myself. I'm a mother of eight, wife of one (sorry honey, that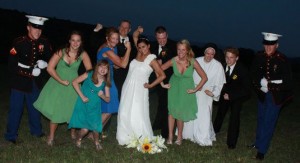 is the pecking order) nana of three baby grand-daughters. I'm a new author–new to fiction that is. I have worn so many hats, my resume looks like I'm either bi-polar or schizophrenic (probably the former.) I live with my husband of 25 years (see honey, you rated that time), and four of our eight children, one grand-daughter and two cats, who are mostly here to catch any mice that prowl about this acre with ideas of invading this ol' house.
Right now the house is unbelievably quiet and empty. My husband, Darrell is at church with our youngest daughter. My oldest daughter and her baby are visiting friends in NYC, and my 17 year old daughter and 19 year old son are both at work. (At least as far as I know.) This never happens, I mean never! And here I am blogging into thin air instead of working on my second book. Not that blogging isn't important — I have to take the experts' words for that…but, and I mean no offense, I'd rather be writing. Thing is, they will be home shortly, and I will be interrupted anyway. So writing into thin air seems like a good use of my time.
Well, I hope you are out there, whoever you are. And I hope you will read my first book, The Glen, write a magnificent, glowing review, and beg me to finish the second.
Oh yeah, I wish for a million dollars, too. Hotdog!